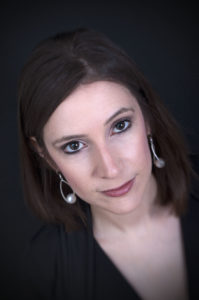 The soprano Amélie Renglet reglarly sings with different professional ensembles such as the Choeur de Chambre de Namur (B), Ars Nova Copenhagen (DK), B'Rock Vocal Consort (B),  Psallentes (B), Vox Luminis (B), het Vlaams Radio Koor (B), Cappella Mediterranea (F), Ad Mosam (NL), Il fondamento (B), Ludus Modalis (F). She has had the opportunity to work with renowned conductors including Leonardo García Alarcón, Jean Tubéry, Christophe Rousset, Guy Van Waas, Paul Hillier, Herve Niquet, Jean-Claude Malgoire, Paul Dombrecht, Andrew Lawrence-King, Adam Fischer, Frieder Bernius, Lars Ulrik Mortensen, Frederico Mario Sardelli, Michael Bojesen, Peter Phillips.
She performs also as soloist in works by J.-S. Bach, H. Purcell, B. Britten, M.-A. Charpentier, W. A. Mozart, C. W. Gluck, C. Monteverdi, J. Brahms as well as many others.
In addition to regularly singing baroque music, Amélie often approaches other repertoires such as Gregorian chant, contemporary music, opérette, and even jazz.
Amélie studied singing at «IMEP» (Institut Supérieur de Musique et de Pédagogie Musicale) in Namur with Benoît Giaux and Laure Delcampe and graduated in June 2005. She then continues her training with Poul Emborg and John Guttman in Denmark, and with Eunice Arias in Belgium.